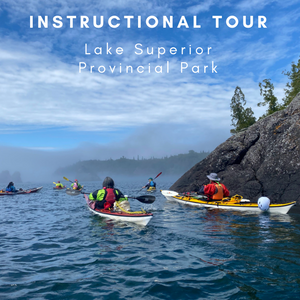 Lake Superior Provincial Park - Instructional Tour
Sea kayaking paradise; Lake Superior Provincial Park is a classic sea kayaking destination in Northern Ontario, Canada.  Beautiful campsites, astonishing cliffs, an iconic kayaking playground. The backcountry of Lake Superior Provincial Park provides access to numerous hiking and paddling opportunities which vary from easy day trips to multi-day adventures along the dramatic coast of Lake Superior. Our trip will take us from Gargantua Harbour to Old Woman Bay, and back.  
This adventure is designed for sea kayakers who have taken Level 1 or feel they have the equivalent skills. The intent of this trip is to give paddlers experience participating on an expedition on big coastal waters in a controlled and supervised manor.
DESCRIPTION:
On this adventure we travel from Gargantua Harbour to Old Woman Bay and then return home. On our way down we camp on the beautiful sites maintained by the park. 
Glaciation over the last million years carved the Lake Superior basin and shaped the landscape we see today.  Signatures of the massive sheets of ice that covered the land are scrawled up and down the coastline of Lake Superior Provincial Park.  Debris caught beneath shifting ice created the scratches and gouges on the polished rock point at Robertson Cove. Massive boulders, known as "erratics", were orphaned by the melt and distributed near Katherine Cove.  Fine sand beaches are often found near river mouths along this rocky coast.  Waterways like the Sand River, located 2 km (1.25 miles) south, have transported glacial materials for thousands of years to build these beaches.  The Ojibwe name for the Sand River is Pinguisibi; 'pingui' meaning fine white sand and 'sibi' meaning river.
https://www.superiorconservancy.org/
PRICE INCLUDES:
Small groups lead by experienced Paddle Canada coaches. Max 3:1 ratio.
All meals during the trip. (Days 1-5).
We will provide you with a drysuit and kayak during the trip.
Pre-trip planning webinar.
Camping and accommodations. 
Park permits and platforms reservation.

Charts, compasses and cases for each participant.

All common camping gear (tarps, etc.).

If you would like to come in a tandem please contact us info@kayak-ontario.com
WHAT IS NOT INCLUDED:
Transportation to put in.

Snacks. 

Personal paddling Clothing (dry suit or neoprene & paddle jacket combination, etc).

   
ITINERARY:
Day 0 : Meet Up at Agawa Bay Campsite

Day 1 – 5 : Kayak Trip to Old Woman Bay and back.

Day 5 : Last Kayak Day. Take Out at Gargantua Harbour.