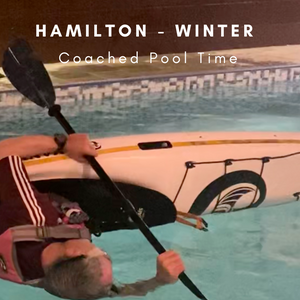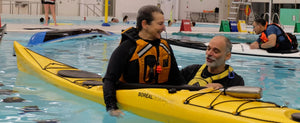 Coached Pool Time - Hamilton - Winter Season
Stay Sharp Over the Winter Months
Come to the pool over the winter months to work on your skills and stay sharp.  We will have guest coaches for some of the sessions, so please check in often. The sessions are a 3:1 ratio. Kayak and paddle rental is included. Price is per session.
Weekday Classes are 7:05 to 830 and 8:35 - 9:55PM
Weekend Classes are 9:05 to 10:25 and 10:30 - 11:55AM
For the purposes of this class, you will require:
During this class, you:
Get coaching on rolling, edging, bracing, and other topics
Will get wet.

Bring spare clothes and a towel.
Pool attire
You may want to wear your wetsuit or drysuit but it is not required.

Have fun.

It may not seem like it at first, but learning these skills are very rewarding and a ton of fun.

Make friends.

You will meet a group of kayakers similar to you at the same point in their development.
We believe that this class should be fun, laid back and offered in a positive, inclusive experience. We will incorporate games, group activities and real world scenarios as much as possible. We will not put you on the spot, make you demonstrate in front of the class (unless you want to) or speak in front of crowds. If that and the promise of terrible Dad jokes appeals to you, you have found the place to sign up.