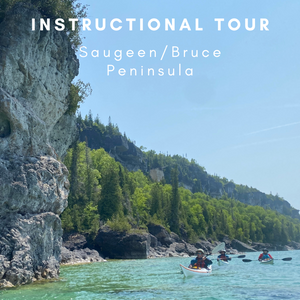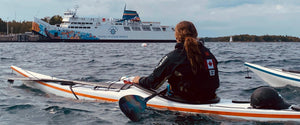 Instructional Tour - Saugeen (Bruce) Peninsula
TOURING THE COASTAL WATERS OF THE SAUGEEN PENINSULA 

This course is run from a base camp. Camping is Included in the Price
The Saugeen Peninsula is well known for its rugged and challenging terrain. It is a paradise for sea kayaking if you have the proper skills and gear. We will take four days to thoroughly explore and learn about the region. 
We will basecamp in a comfortable, fun and clean private campsite. From there we will pick the best locations on the Peninsula to explore. We know all of the best launch spots, food trucks and patios. You wont believe how good the places outside of the tourist areas are.
Sample Trip Plan (this may change, there are tons of options):
Day 1 - Lion's Head
Safety debrief

Risk Management presentation

Short Skills review

Explore somewhere beautiful and follow it up with a food truck or a patio.

Hidden shipwrecks, caves, huge rocks, cliffs and pizza!
Day 2 - Fathom Five/Tobermory
Navigation presentation

Coastal Touring and Navigation

We will use charts, plotters and compasses to find shipwrecks and lighthouses.

Tour the islands, we know where lots of shipwrecks are that aren't well advertised.

Authentic Mexican food, patios and good music.
Day 3 - Sandy Beach
Daily weather interpretation.

Coastal Touring and Navigation

We will visit the best coffee shop on the Peninsula.

Lyle Island is full of coves and lighthouses to explore 
Day 4 - Cape Croker
Daily weather interpretation.

We will make the ice cream expedition to end the trip followed by Chinese food for dinner.
What is included:

Your campsite
A sea kayak, with 2 bulkheads. 
Dry suits are available to borrow if required.
What is not included:
Camping gear - we have some for rent, please enquire if needed.

Food is not included

Transportation and parking permits.
This program includes 4 nights camping; please note that participants are responsible for parking permits at the launch sites.
We would like to acknowledge that the land on which we gather (Known as Tobermory) is the traditional territory of the Anishinabewaki ᐊᓂᔑᓈᐯᐗᑭ, Odawa and Mississauga. 
We are grateful for the knowledge shared with us by the Indigenous peoples of what is now known as Canada as well as the circumpolar region of the Northern Hemisphere.