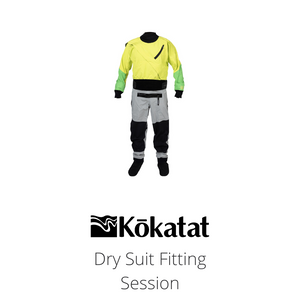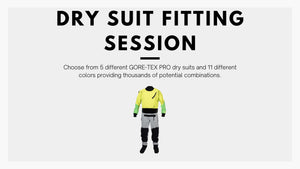 Dry Suit Fitting Session
Please complete the checkout process to confirm your appointment. You will not be charged.


DESIGN YOUR CUSTOM GORE-TEX PRO DRY SUIT. 
Choose from 5 different GORE-TEX PRO dry suits and 11 different colors providing thousands of potential combinations. Add a pocket or two and some suspenders. Use our simple sizing app to determine your size for a custom fit, including sleeve and pant adjustments, torso lengthening, gasket, and waterproof sock size. We build them one-at-a-time in our factory in Arcata, CA. Each suit is individually tested and guaranteed to be dry out of the box and for the reasonable life of the garment. Kokatat does not accept returns or exchanges on customized dry suits. Custom suit orders can't be modified or cancelled once submitted to Kokatat. Orders for custom suits ship 4 weeks from order date.
Kokatat can lengthen or shorten sleeves and legs, lengthen the torso, and change sock and gasket sizes to accommodate customer measurements. Be sure to follow the measuring instructions carefully. Kokatat is not responsible for the fit of a custom dry suit if the information provided is incorrect or incomplete. Measure twice, we only cut once. Do not add additional length to actual measurements. Kokatat garments are sized with ample room for ventilation and to be comfortable over an insulating layer. For standard measurements please refer to the stock standard sizes information on the sizing page.
SHOW YOUR STYLE WITH A MADE-TO-ORDER CUSTOM KOKATAT DRY SUIT.
Kokatat Custom Order Dry Suits from Kokatat on Vimeo.